Event Info
Start/Finish: Peebles, Scottish Borders
Age: 16 years or over
Tour O The Borders is a closed road sportive taking place in the beautiful Scottish Borders on Sunday 4 September 2022.
Results can be found here and event photos can be found here.
Riders Notes can be found here.
Starting in the Borders town of Peebles, the 'Touro' routes travel mainly over quiet, picturesque back roads and climb several stiff hills along the way, with the inclusion of the famous Talla Wall Climb. Challenging but rewarding, the routes; The Challenge and The Full feature the most amazing natural scenery and some of the best road cycling terrain in Scotland – what better way to take your mind off your efforts than by enjoying this beautiful part of Scotland!
We're confident this is the best value-for-money closed road sportive in the country.
Route Map
The full 120km route is the white line, the challenge 88km route is the yellow line.
An average minimum speed of 16km/hr must be maintained (don't worry – this is an easy speed to achieve).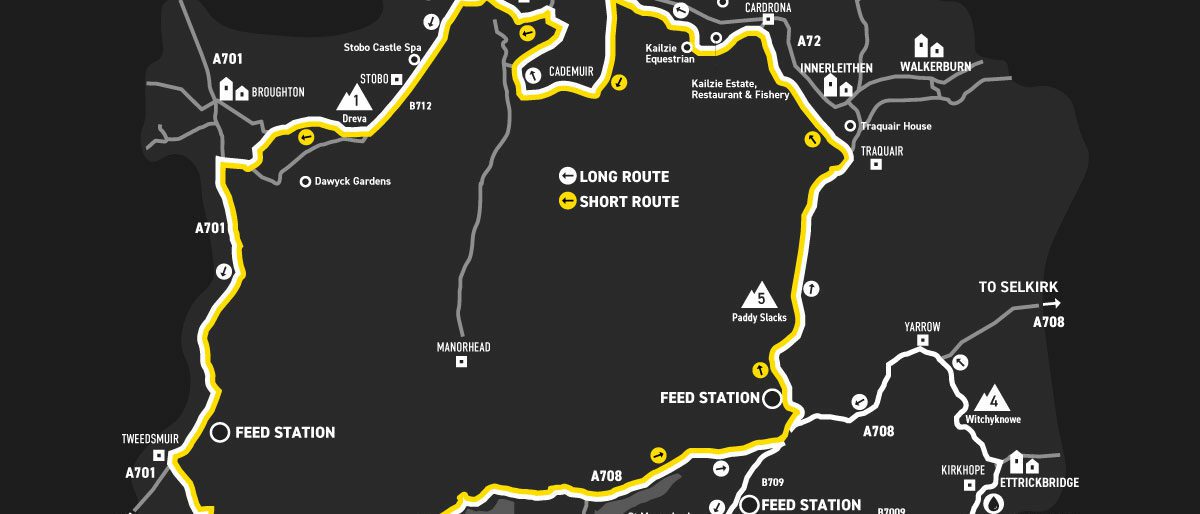 Choose Your Route
Choice of two route lengths
So what do you get for your money?
A fantastic closed road ride including some of the UK's best cycling country and awesome scenery
Great feed stations on the route with a variety of locally-made treats, including some fantastic cake and delicious macaroni pies
The best electronic chip timing system, results texted to you soon after finish
Official souvenir for all finishers
Buzzing event village
Mechanical support before and during the event
Comprehensive first aid and safety provision around the course
Water and toilet stops where you'll most likely need them (we're riders too!)
A sweeper vehicle and tech/service support on course
Registration
Start times to be confirmed. Riders leave will leave in waves based on their estimated completion time
Faster riders first. If you want to rider together, ensure your completion times are the same (they should be based on the slowest rider).
All riders have timing chips as part of their number boards. All riders' times are logged and available at the finish. All results will be posted on the event website as soon as possible after the event, and individual results will be sent via text soon after finish.
All riders will be issued with a number board and wristband. Number boards must be attached to handlebars and must be readable throughout the event. Wristbands MUST be worn throughout the event for safety reasons. Riders not wearing their wristbands may be asked to leave the course.
There are two options for registration for 2022:
Option 1 – Registration in person
Riders must register on Saturday 3 September 2022, the day before the event (as in previous years) at Tweed Green, Peebles, EH45 8AP. You'll be issued with a registration time. Riders cannot register on the morning of the event. To allow same day registration would mean we'd have to start registering people at about 1am in the morning on the Sunday – it's just not feasible and would mean an impossibly early start for riders (and us).
If you are unable to register in person yourself on Saturday 3 September, someone else can collect your rider pack for you on your behalf – they must have a copy of your confirmation email, and also be able to confirm that your contact and emergency contact details are correct, and sign on your behalf.
Option 2 – Advance postal registration
Advance postal registration will only be available for riders who enter by the cut off date, Wednesday 17 August 2022 at midnight. No rider packs can be sent out for riders who register after this date. This is to allow your number board and timing chip to be prepared in advance.
Riders wishing to use this registration method MUST select this entry type when registering online for the event. You can choose to change this ticket type until Wednesday 17 August 2022.
Note: To make changes to your entry details or make additional purchases (parking, camping and official merchandise), login to your SiEntries account.
---
*Rider packs will be sent out in 2 waves, via Royal Mail Signed For Second Class, which requires a signature so will provide proof of delivery. If you register by Thursday 28th July, packs will be sent out mid August 2022.
If you opt for an advanced postal registration after Thursday 28 July, all riders should receive their packs by Thursday 25 August 2022 – if you have not received your pack by this date, you MUST contact us (info@tourotheborders.com) asap. Last date for postal registration is Wednesday 17 August.
A reminder will be sent to you by email to check you've got everything!
If you have not received your pack by 25 August 2022, please contact us. If you don't contact us or provide up to date details, there will be a charge of £15 for a new pack at registration (early Sunday morning).
DON'T LOSE OR FORGET YOUR PACK!
If you do, there will also be a charge of £15 for a replacement.
Important notice
For all Challenge 88 route riders (short course)!
This event has timed road closures throughout the course, and great care has been taken in planning for a safe and smooth-running event. All short course riders will start in the last start waves in Peebles, meaning even the fastest '88' riders will arrive at the Gordon Arms route split after the fastest long course riders have passed this point. Short course riders are not permitted onto the road before the lead vehicles and the leading long course riders have passed the Gordon Arms. This is very important for safety reasons and ensuring no riders can be on the road before closures are in place. In the case of an incident or delay on the long course, short course riders will be held at the Gordon Arms accordingly. If for any reason a short course rider arrives at the Gordon Arms before the long course riders, and wishes to carry on without waiting for lead vehicles and long course riders, they will have number boards removed and will be made aware that they are riding at their own risk, on open roads.
Physiotherapy free advice
We are delighted to confirm Peebles Physiotherapy and The Physiotherapy Clinics, Edinburgh will be in attendance on Sunday morning for the Tour at their Gazebo on Tweed Green, Peebles. Their experienced Sports Physiotherapist will be there to offer free advice to participants of the Tour. So if you develop an injury pop along to get some advice (there is a discounted charge should treatment be required).
If you develop an injury prior to the event you can contact their clinic for free advice by calling 0131 218 3000 to arrange to speak to one of their highly experienced Physiotherapists.
Their Sports Massage team will also on Tweed Green and ready to help those tired legs when you get back from the ride! (£10 as session)
Refund Policy
If for any reason you are unable to attend the event refunds will be available on request as follows:
2 months prior to event date | 75% refund
1- 2 months prior to event date | 50% refund
Less than 1 month prior to event date | No refund