Event Info
Awesome new route for the 120km course!
88km Challenge route remains unchanged
Tour O The Borders is a closed road sportive taking place in the beautiful Scottish Borders on Sunday 3 September 2023, starting and finishing in Peebles in the Scottish Borders.
The 'Touro' routes travel mainly over quiet, picturesque back roads and climb several stiff hills along the way. Challenging but rewarding, the routes The Challenge and The Full feature the most amazing natural scenery and some of the best road cycling terrain in Scotland – what better way to take your mind off your efforts than by enjoying this beautiful part of Scotland!
We're delighted to be able to change the route for 2023 and make what a lot of people say was already the best closed road sportive in the UK even better!
Full Route: 120km/1200m ascent   |  Challenge Route 88km/940m ascent
Approx. start time: 06:50 – 07:40
Entry Prices: There's no doubt Closed Road Sportive events are expensive, but if you've done one before at least you'll realise the scale of the traffic management and safety planning that goes into it. We've kept prices as low as possible and have managed to keep it the same as last year where possible.
£79 non postal / £84 postal pack (postal option now closed)
About the New 120km Route
For 2023, the full route takes in the wilds of the upper Tweed basin, passing the source of the River Tweed and up to the legendary views and savage scenery of the Devil's Beeftub. The descent from here to lovely Moffat town is a huge, mellow, swooping classic. After a neutral zone within Moffat (stop for a quick snack or coffee if you want, the timing pause allows for a short break) you'll head north again and through one of Scotland's most stunning landscapes – the famous glacial valley of Moffat Dale. An undulating ribbon of tarmac passes wild glens, imposing mountain landscapes and the famous Grey Mare's Tail waterfall.
A cracker of a climb at the end of this valley takes you to a col, the regional boundary and the start of a long and lovely descent to the Glen Café (feed station) and St Mary's Loch.
The route soon rejoins the traditional Touro route, heading for The Gordon Arms, up Paddy Slacks climb and over the pass to Traquair, before heading west along the final kms to Peebles.
We're so pleased to be able to use this route – it's an absolute cracker. Massive thanks to both Scottish Borders Council and Dumfries and Galloway Council for their co-operation. We are also hugely grateful to the people of all the communities around the course for their patience and support in allowing all of us cyclists to enjoy this cycling gold so safely and without traffic.*
The full 120km route is the white line, the challenge 88km route is the yellow line. An average minimum speed of 16km/hr must be maintained (don't worry – this is an easy speed to achieve).
Age: Riders must be 16 years or over
* As organisers and riders we understand and respect the inconvenience that closed road cycling events can bring, so we appreciate the patience of local communities. We're currently working with local authorities, those affected communities around the course and traffic management professionals on the closed road arrangements.
As a result we're proposing a neutralised section in Moffat town centre, the potential for agricultural and local service vehicles to operate around the Megget and Talla route (short course only), and traffic management measures on a final section of the route east of Peebles.
Any local access arrangements will always put rider safety and enjoyment first, and will definitely not impact on the enjoyment of a fabulous day of closed road cycling!
2022 Rider Times can be found here and event photos can be found here.
Route Map
The full 120km route is the white line, the challenge 88km route is the yellow line.
An average minimum speed of 16km/hr must be maintained (don't worry – this is an easy speed to achieve).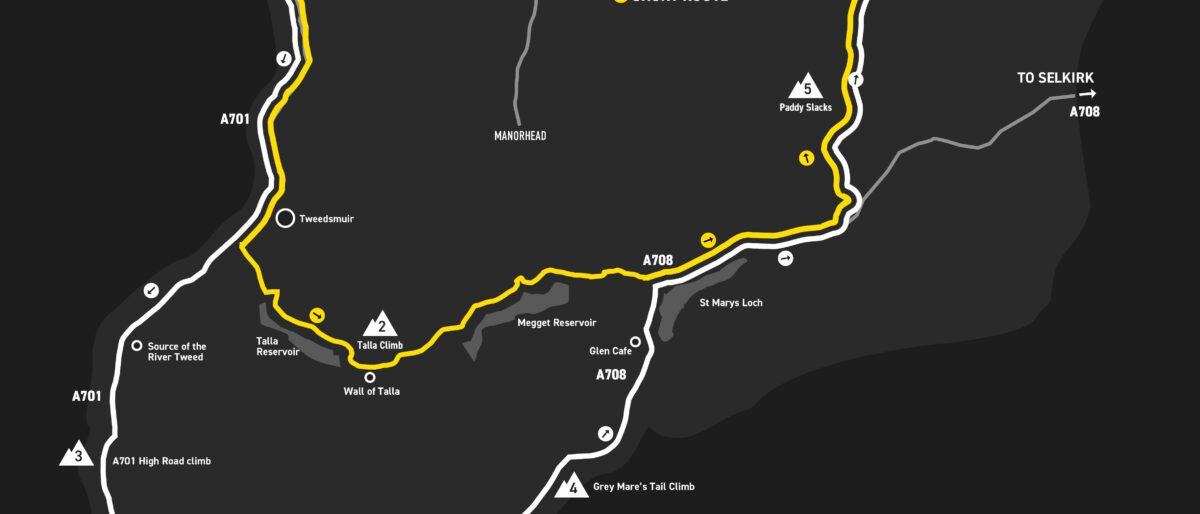 Choose Your Route
Choice of two route lengths
Full route - link to follow
120kms/74 miles - Elevation gain: 1200m
So what do you get for your money?
A fantastic closed road ride including some of the UK's best cycling country and awesome scenery
Great feed stations on the route with a variety of locally-made treats, including some fantastic cake and delicious macaroni pies
The best electronic chip timing system, Rider Times texted to you soon after finish
Official souvenir for all finishers
Buzzing event village
Mechanical support before and during the event
Comprehensive first aid and safety provision around the course
Water and toilet stops where you'll most likely need them (we're riders too!)
A sweeper vehicle and tech/service support on course
Registration
Start times approx. 06:50-07:40. Riders will leave in waves based on their estimated completion time.
Faster riders first. If you want to rider together, ensure your completion times are the same (they should be based on the slowest rider).
All riders have timing chips as part of their number boards. All riders' times are logged and available at the finish. All Rider Times will be posted on the event website as soon as possible after the event, and individual times will be sent via text soon after finish.
All riders will be issued with a number board and wristband. Number boards must be attached to handlebars and must be readable throughout the event. Wristbands MUST be worn throughout the event for safety reasons. Riders not wearing their wristbands may be asked to leave the course.
How do you want to receive your Rider Pack?
Option 1 – In person on Saturday 2nd September 2023
This option allows you to come to Event HQ at Tweed Green, Peebles, EH45 8AP on Saturday 2 and collect your Rider Pack from us in person. We'll be there from 10am-7pm. A great option if you have questions about event day and if you're staying for the weekend in the Tweed Valley. You'll be able to soak up the vibes at our event village, get a coffee and browse our Tour O The Borders shop.
Someone else can collect your rider pack on your behalf.
Important – no rider can collect their pack on Sunday morning.
Option 2 – Via post (now closed)
This option allows you to arrive on Sunday 3, ready to ride. You do not need to attend the Event HQ on Saturday 2 to collect anything or to register, you will have everything you need sent to you in the post. Ideal for those working on Saturday, or those who won't arrive in Peebles until late on Saturday evening.
Important – please ensure your address details on SiEntries are correct. The information on your profile is where the pack will be sent to.
Important – no rider can collect their pack on Sunday morning.
---
Refund Policy
Important – we are now working with Booking Protect and all refund requests must go through them. Booking Protect is available for Tour O The Borders and available at the time of ticket purchase. We highly recommend you add this option.
Purchasing Booking Protect allows you to apply for a refund in case you are unable to attend due to unforeseen circumstances outside of your control. Please see the Booking Protect terms and conditions to find out if you are eligible for a refund. Please see the latest coronavirus guidance for how Booking Protect handle claims for Covid 19.
Booking Protect ensures a fast, fair and transparent process for all customers. For more information and/or to apply for a refund please visit https://bookingprotect.com/apply-for-a-refund/