News
My Journey so far – Katy Noble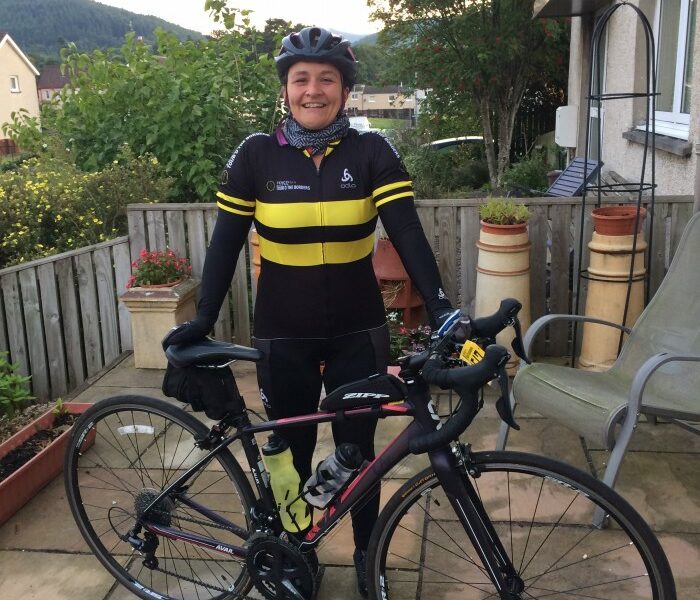 Half way through… how did that happen !?!
The last 3 months have flown by in a haze of excitement, tiredness, elation, joy and a little stress at times!
At the start of my Tesco Bank Tour O The Borders journey my main aims were to get some much needed "me time" which as a busy working mum I don't get very often, to get fit and healthy and to beat the blues.
I have thoroughly enjoyed every minute on my bike, the rides to start with were tough and I felt like I couldn't do it – and I certainly wasn't very fit. It has been a challenge but knowing that I was doing this for my own wellbeing and my health has kept the motivation high. It can be so hard to find the time to fit in exercise to a busy life style but I found that once it's in my diary it is so much easier to commit to but having company has made it so much easier, I can definitely recommend having a training partner to go out with.
My dad Keith, brother in law John and family friend Billy have kept me going. It could be so easy (for me) to make up rubbish excuses in my head why I shouldn't bother going out but I can honestly say there is nothing better than getting out there and feeling the fresh air on your cheeks while whizzing downhill !!
I am very lucky to live in such a beautiful part of the world so there is plenty to see during every ride. So far we have completed over 455km over 26hours on the bike.
Over the past few weeks my fitness has definitely improved, hills are still a challenge but I feel like they are getting easier and I'm able to go so much further that I ever thought I would be doing at this stage, we are managing just under 40 miles !!.
My weight loss has slowed down. I have lost 7lbs since the start (I still have 16lb to loose to get to my target set by my trainer Phil Mack)
When I first started I changed my diet completely. I reduced my carbohydrates, chocolate, crisps and other junk food for a few weeks and ate really well…. that didn't last long… I was so hungry, and craving all the wrong things!! But that has to change; the longer my rides are, the more important it is to eat properly to recover quicker. I feel like I'm back on track with my healthy eating. It's a part of life that needs proper planning and can be time consuming, but it's really worth it. I have noticed a combination of exercise and eating properly gives me so much energy and such a good feeling about myself and life in general. I do think it has to be a combination… the days I don't eat well but ride my bike I feel bloated, low and really run down but the moment I eat well I feel so much better and brighter and don't have to fight the guilt of eating junk food !!
So here's to the next 3 months of hard work and eating well (I'm just off to meet Phil to get my body fat and weight checked – here's hoping they have improved)
I also took part in my first Biking sportive the other weekend, the Cycle Law Scotland Skinny Tweed – a 75km route through some beautiful Tweed Valley & Scottish Borders countryside. It was awesome!
Next month Phil is taking me down to Tweedsmuir to experience the huge Talla climb and fast descent down the other side.
Thanks to everyone who has supported and encouraged me to keep going when I've felt like giving up, especially my Dad, Husband Colin and the always positive and motivational Phil Mack.
From the trainer – Phil Mack
What a delight it is to train Katy. She has done so well over the past 3 month's, from falling off her bike on her very first ride, to recently completing her first 60k hilly ride. That's a great achievement in such a short period of time. Katy is fitter, stronger and clearly delighted with her progress.
Last night we re-took her body fat and weight and here are the results (with Katy's permission):
Body fat reduced from 37% to 29%
Lean muscle increased from 43kg to 46 kg
Body weight reduced from 68.9kg to 65.6kg
Wow, this is fantastic progress in such a short period of time. Well done Katy, a great achievement in only 3 months. Looking forward to seeing your progress during the next three.
Phil
Categorised in: News
This post was written by hillsideoutside