News
Where it all began – Katy's Touro Journey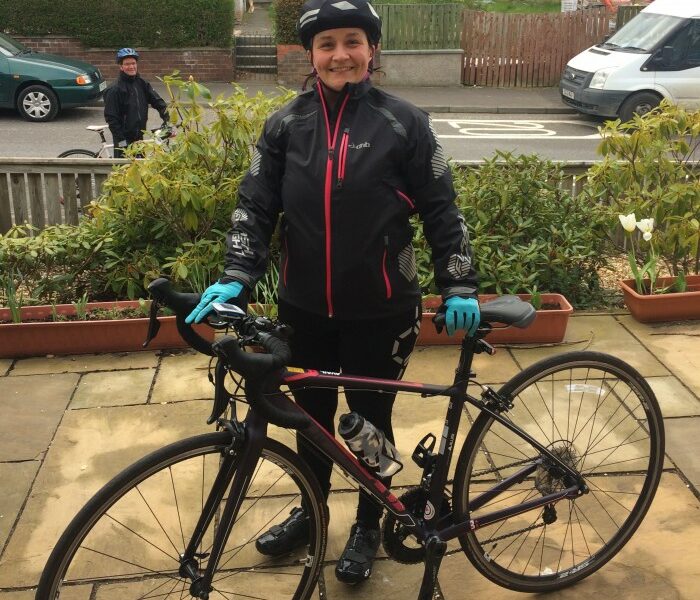 Welcome to Katy's Journey. My personal account of the challenging journey I have ahead of myself….
Over the next 6 months I will be writing a blog every fortnight to keep everyone posted on my journey to the 2017 Tour O The Borders
I entered a competition on the Tesco Bank Tour O The Borders Facebook page back in January 2017. For the chance to win the amazing prize of personal training from Phil Mack from 
Peebles Physiotherapist
, entry into 120km Tour O The Borders, use of training equipment and more.
Willing applicants had to send an email and tell the team at Hillside Outside in no more than 50 words why they should be chosen for this awesome opportunity.
So why on earth did I enter ?!? 
I am a mum to two little girls Rosie (6) & Ivy (3). I also work full time from home as a registered Childminder. I give myself very little time to do anything for myself, never mind get fit. After little Ivy was born in 2013 I suffered with Post Traumatic Stress Disorder and Post Natal Depression. I endured a hard labour and delivery when Ivy was born. I needed intense surgery and a blood transfusion or two and ended up recovering in Intensive Care. Ivy also took unwell at 6 hours old. She was transferred to the Edinburgh Royal Infirmary to be cared for in their Intensive Care Unit.
She was diagnosed with Group B Strep, a potential killer to young babies. Ivy became very unwell but myself and my husband Colin are so happy that she made a full recovery after 18 long days in hospital !! Over the last three years I have been diagnosed with and received treatment for PTSD & PND. I do feel so much better but I still sometimes feel stuck in a bit of a rut, I've put on a fair bit weight and just feel tired all time and I never get anything done!
So when I saw the advert for the competition on Facebook I though here's my chance to get fit and toned with the right guidance from a talented Trainer and Physio and I would really would love to stop taking the medication and use the natural effects of exercising and being fit to maintain a healthy and happy lifestyle.
On February 27th (my husband 40th Birthday !!) Tour O The Borders made a Facebook announcement that I had won.
I am so great full to the team for giving me this wonderful and life changing opportunity. I am so excited to get on my bike…. Ohh slight problem, I don't own a bike or riding kit of any form. Lets go shopping !!
I have been very lucky to have been offered support from my dad and local Business man, Keith Orr Director at "Renwick & Weir" has kindly sponsored my Bike and some kit and my lovely brother in law John McKaig from "Thomson Gray" has kindly sponsored my pedals, cleats and shoes.
My dad took myself and little Ivy through to Edinburgh to visit Edinburgh Bicycle Co Operative to buy my essential kit.
I was given brilliant advice and customer service from Ross & Paul at the Morningside shop. I am now the proud owner of a beautiful Liv Avail 1 and lots of other shiny gadgets and gizmos!
Edinburgh Bicycle Co Operative even threw in two pairs of gloves to help me out. All the help is hugely appreciated, many thanks!
I have to admit I really have no clue when it comes to technical bike terms or what gear I should have to make this journey as pleasant as possible !! So please get in touch and tell me what I you think I should know and what you'd recommend and if you see me on my bike give me a wave !
Now that I have my gear sorted and I have set up the Turbo Trainer that is on loan from Edinburgh Bicycle Co Operative I am ready to get started with training….I don't think Phil Mack knows what he's let himself in for !!
Twitter @katcolmum 
Instagram @Katcolmum 
and Pinterest Katy Noble "I can Touro 2017" (you'll find pictures and info about all my kit there)
Categorised in: News
This post was written by hillsideoutside