News
Meet Emily – our 2023 Touro Trainee
Training season is ON. With only five months to go until we take to the road for the tenth edition of Touro, for most of us it's time to start working on the fitness and clocking up some miles.
We'll be launching the first of our monthly training plans in a few days – and have a fabulous Touro Trainee who'll be test-driving them all between now and 3 Sept.
Recently moved to the Tweed Valley area, road novice Emily Stratton couldn't be more excited to get stuck in to her first taste of skinny tyres and south of Scotland cycling …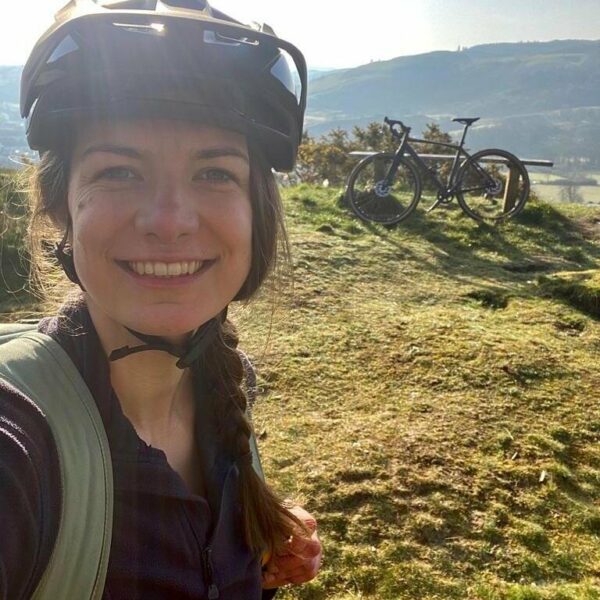 "Four years ago, my only cycling experience was just the occasional commute; having gone over the handlebars two times too many, I had come to the conclusion that life behind bars wasn't for me. Fast forward to the present day and I have finally realised what I've been missing out on! I absolutely love riding my mountain bike, and the epic places it takes me.
Living on the doorstep of the Cambrian mountains, I felt the next step was getting a gravel bike to enable me to explore further afield and cover more miles. I enjoyed combining mountain adventures and longer rides, but like with most things, I haven't done as much of it as I would have liked.
Now, having recently moved to Innerleithen from Mid Wales, I'm keen to explore my new back yard. Whilst looking for some recced routes, I came across Tour O The Borders, and what better way to check out the riding the Scottish Borders has to offer!
I haven't done any road riding before, and I'm not even sure of the furthest distance I've cycled in a day; so I'm looking forward to having an event to work towards, exploring the Borders, and trying something new – as well as hopefully getting other riders on board.
Check back in regularly to follow Emily's Touro training journey.
Categorised in: News
This post was written by HO_Lindsay