News
Sausage legs and bib shorts…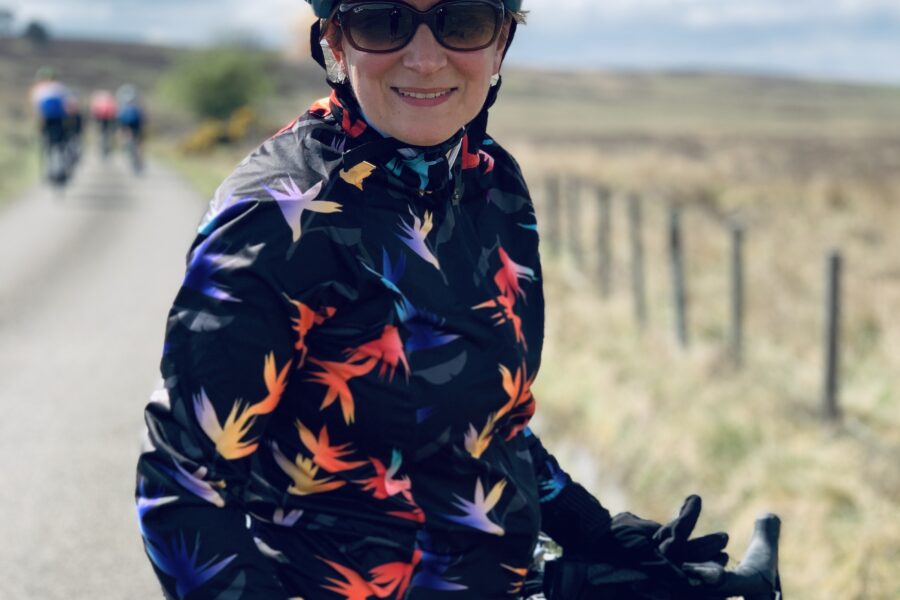 One of the most off-putting things I've found about road biking is the clothing… the kit. I imagine it's designed to be sleek to make you go faster. But if you're not sleek yourself, then no amount of tight clothing is gonna make you feel like you wanna wear road biking gear. So that's been another wee journey I've been on.
I very much rocked the Middle Aged Woman Who Got Dressed In The Dark look for the first few months of this challenge, wearing some padded shorts underneath mountain biking baggies, with merino layers on top and boys' skate shoes on my feet. But once I got my road bike, the shoes changed to Shimano hard shoes with cleats. As the weather changed, I had to cast off the merino cosiness and get something suited to longer rides and no rucksack – a cycling jersey with pouches. And finally, as the rides got longer, the padded shorts which ended at the waist became too uncomfy and were changed for bib shorts.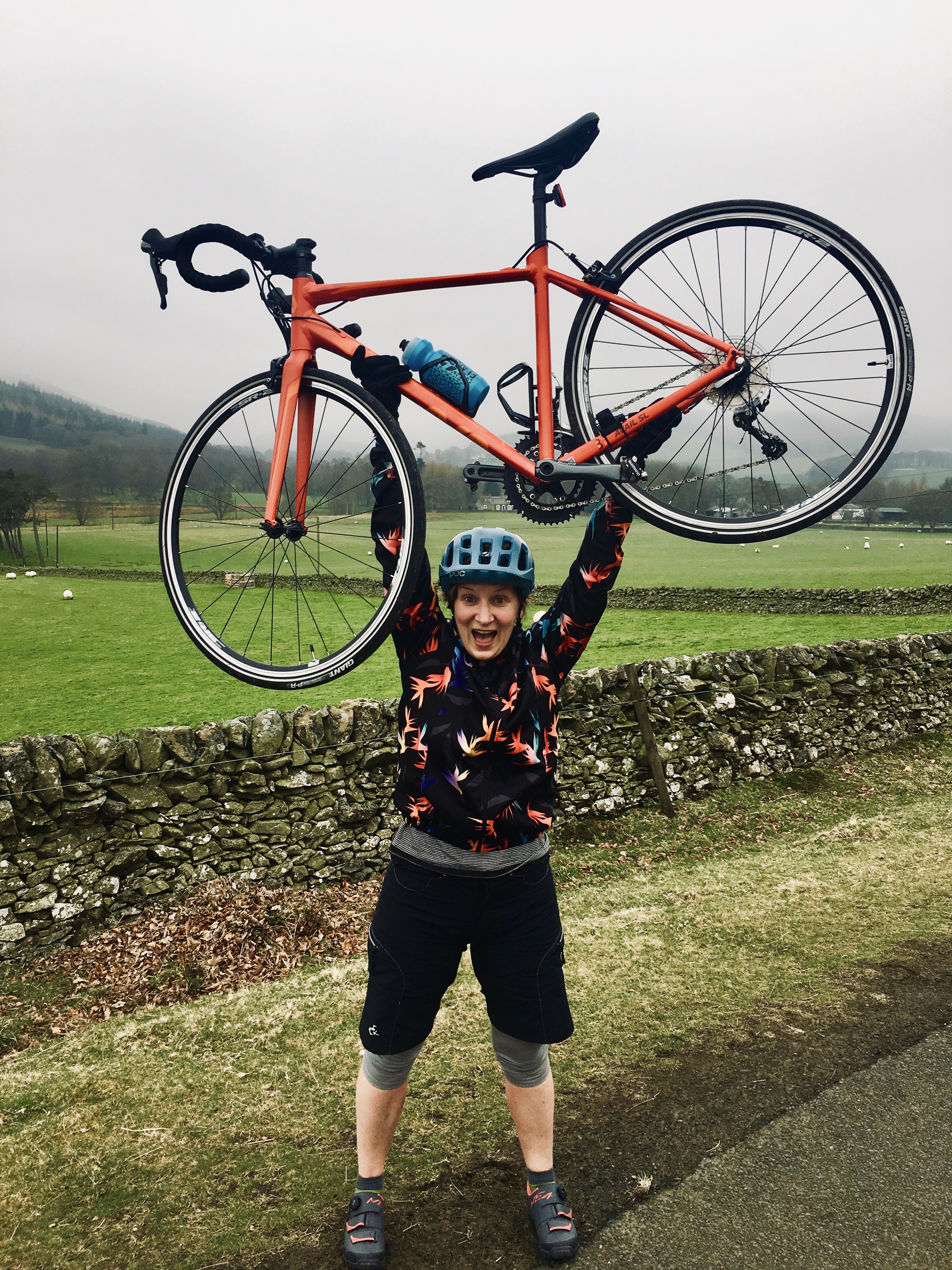 Bib shorts have been a journey in themselves – a journey I resisted quite strongly. They seem to be the basis for everything else and having tried out a few brands there is definitely something in the fact that they are all shaped differently – I even have one pair that are horribly uncomfy to walk in but as soon as I get on the bike they are amazing. And despite how they look, I've even come round to the fact that the circus-sideshow-weightlifter-outfit-elasticated-braces set-up is really very comfy with nothing digging in round the waist.
It's not all been plain sailing though… there are distinct drawbacks with the bib shorts. They are not suited to going for a modest nature pee – you have to strip virtually naked to be able to do that and on a particularly long ride I decided that getting a pre-ride catheter would actually have been preferable. My long-suffering training buddy thought she was having some sort of heart attack in the early days of her bib shorts owing to a tightness in her chest and inability to breath… until she realised she had them on back to front.
The weather in Scotland added in the challenge of long rides with changing temperatures and no rucksack to keep a change of kit in. Enter – arm warmers and knee warmers. I had no idea that a sleeve could be a thing with a life of its own, only ever having experienced them as part of a more important bit of clothing. So the discovery of arm warmers was pretty special. But now I completely get them and have found them perfect for a chilly start when the sun then decides to come out. I've yet to get the same joy from knee warmers. Partly because when I was first googling them I came across an article called 'How to buy knee warmers that don't make your legs look like sausages'. It's a thing apparently. And even though I read the article, I clearly didn't pay attention and found the first few purchases did exactly what I was trying to avoid. I got there in the end though.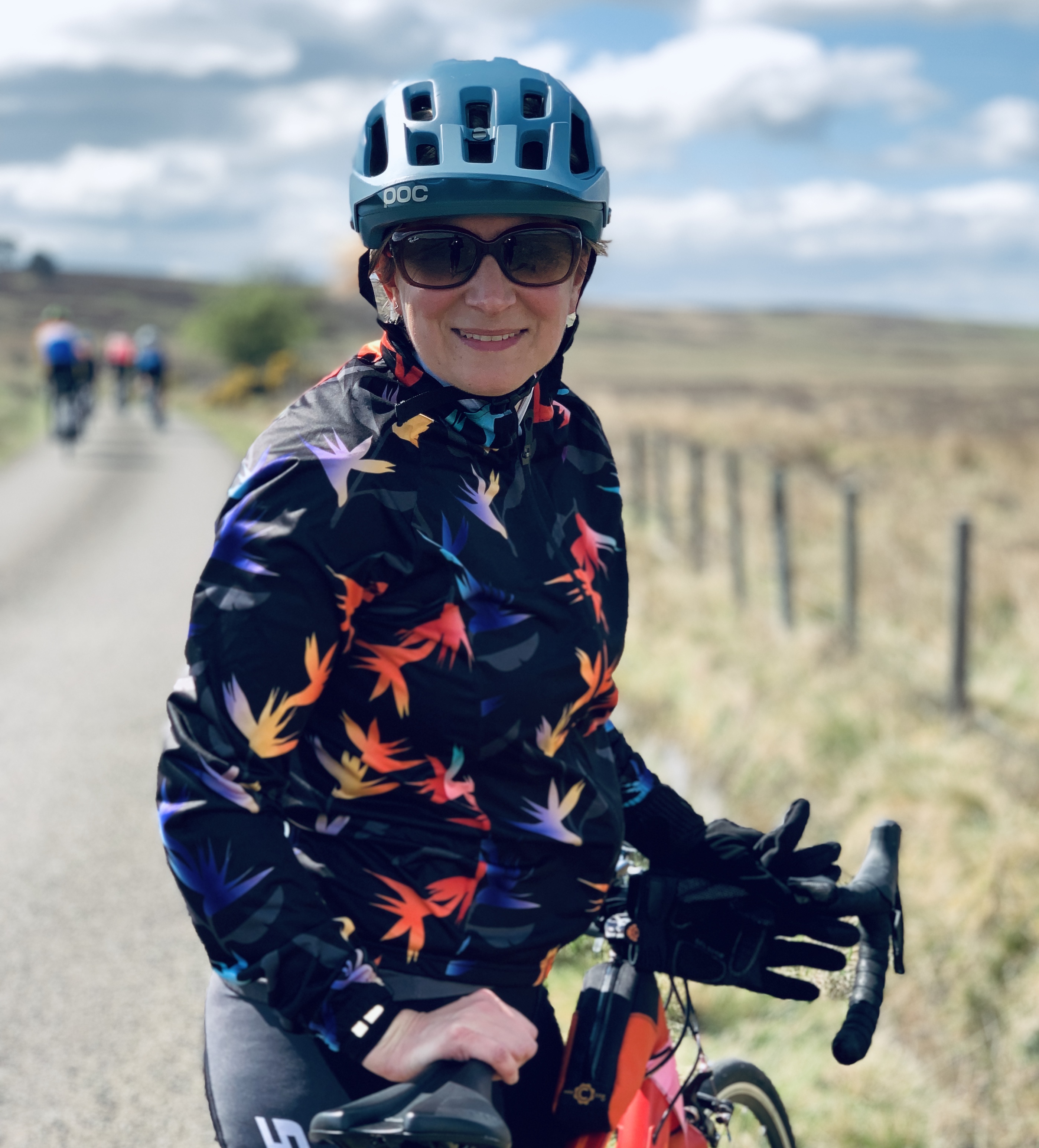 My favourite piece of kit however, is my jacket – which is wind and waterproof and just really very lovely. I've worn it loads and even now that the weather is better, I roll it up and stuff it in a pocket, just in case. At the Tayside Challenge in May I wore it for the whole ride and someone came up to me after the event to chat. She told me she kept passing me but she wanted to tell me that she thought my jacket was lovely. So I am well aware that I won't be beating any Tour of the Borders records but if I win the Jazziest Jacket of the Race award, I'll be delighted!
Categorised in: News
This post was written by Alex Simpkin