News
100km in the bag – The final furlong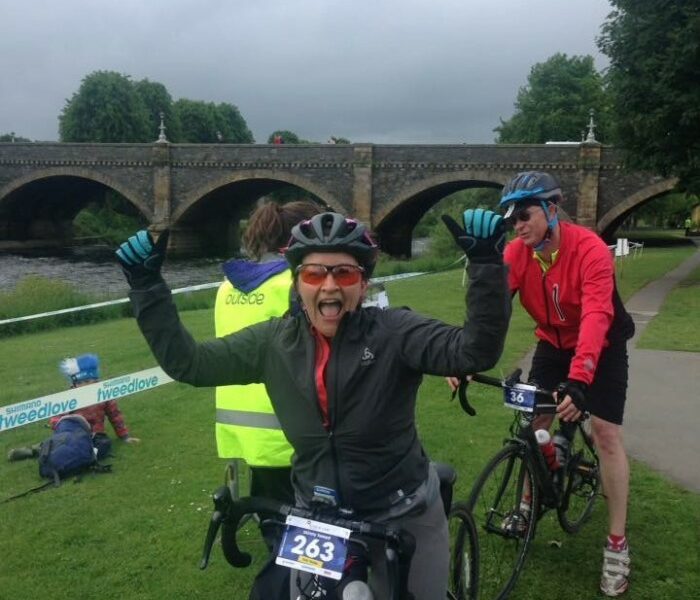 I honestly cannot believe its almost the end of August already….this year is flying by. This summer has been really busy with work, family life and holidays and that's before thinking about fitting in my cycling training. So the blog has been one thing I've not managed to keep up with throughout the summer and now looking back I feel guilty that I haven't kept people up to date with my progress. I have come on so far since my last blog. I completed Skinny Tweed back in June, on a wet miserable Saturday in Peebles. The ride consists of 45 miles of glorious Scottish countryside from Peebles, to Stobo, over Dreva to Broughton then onto Biggar and home again via Cademuir. I only recently checked the official timings etc and realised I came 10th out of 18 in my category woo hoo !! So proud of myself. The ride itself was great, wet road conditions meant we took things easy and took a steady pace. Unfortunately my brother in Law John took a nasty fall on a tight slippy corner and couldn't complete the course due to a broken bike and a nasty cut on his elbow. This gave me a little fright as it all happened so quickly and it made me realise that anyone could have a slip or fall at any given moment. It's made me more aware of the speed I get up to while going downhill.
Summer Holidays with my wee Family
In July we packed our van and headed North to Orkney. I decided at the last minute to put my bike in the van….I am so pleased I did. This was a huge step for me…this whole time my dad has been the one to plan routes and organise rides but I was going to be all on my own…. I had a good look at the weather forecast and picked a day with the least wind forecast and what a beautiful day I picked. I Decided to cycling from South Ronaldsay (Our holiday destination) over the Churchhill barriers to Stromness. A 50km ride all on my own.  And it was absolutely wonderful. The sun shone all day and the wind was very gentle (I believe it's often very windy on Orkney so I was very lucky). The ride its self was great, long straight roads meant I could see for what felt like miles ahead. It felt great cycling along taking in some of the most beautiful views I'll ever see and I made sure I stopped for a breather at the tourist attractions on the way. I saw the Italian Chapel on Lambholm Island, Scapa Flow and St Magnus Cathedral in Kirkwall. It was a truly beautiful day out on my bike.
The dreaded 100km
So over summer my rides have increased in duration and miles. I've now cycled the entire Tour route in small chunks so I know what's ahead. The thought of having to complete the full 124km has been worrying me a little, getting my head around how far it is and how long I'll be on my bike for is extremely scary…
Next on my training plan was to complete my longest ride before the tour…100km !! EECK
This thought was very scary and daunting.  But needs must so My dad and I plan our route and take off early on a sunny Sunday morning in Peebles to head around Cademuir, over Dreva to Broughton, onto Tweedsmuir along Talla Reservoir  to the dreaded Talla climb. Then along to St Mary's Loch for a cuppa, Back along the side of St Mary's Loch and up over Paddy Slacks and home via Cardrona. This was an amazing ride!! I've never felt so comfortable on my bike and it was a pleasure to ride, I didn't find it to tough or gruelling, we kept a steady pace and eat & drank when we needed to. We have both realised how important fuelling is during the longer rides. I've gotten into the habit of taking a banana, oat/cereal bars and gels. I now recognise the signs that I need food and the most important part for me is acting on those feelings…It's so easy to cycling on and then reach a point where I have jelly legs and loose the rhythm and pace !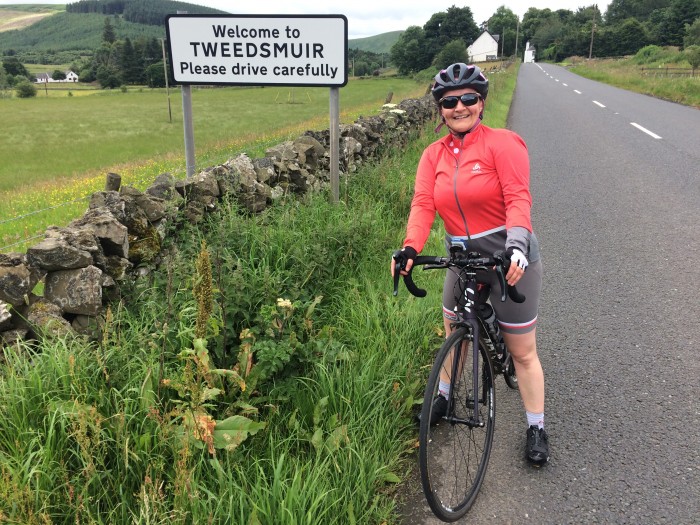 My biggest fear is Talla Wall…It's an absolute shocker. It's around 24% at its steepest part and around a mile long…When I first started I had no idea just how steep this hill is. I've attempted it once before and struggled hugely. I didn't even reach a ¼ of the way up before jumping off the bike. This time I got a teeny bit further and both myself and my dad have decided that we will give it our best on the day but we both full expect to walk this part !! Even walking up pushing the bike in silly cleats is bloody hard work!!
So, here we are though with less a week to go.. I have completed another 60km last week. It's now a case of tapering my training in preparation for the big day… 6 sleeps to go !!! See you all at the start line!
Categorised in: News
This post was written by hillsideoutside